BAGAGES IN CABIN
You can take 1 piece of luggage (55 cm x 40 cm x 20 cm maximum, including handles and wheels) and 1 accessory (laptop computer in its sleeve, handbag, small backpack, schoolbag) in the cabin. The total weight of your cabin baggage and your accessory may not exceed 10 kg. Beyond that, the baggage will be tagged and checked as checked baggage. Your accessory must fit under the seat in front of you, and must not be placed in front of emergency exits, on a vacant seat or in the aisle.
Baggage remains under the responsibility of the passenger for the duration of the trip.
Your carry-on baggage may be removed at the gate and transported to the hold; it will be returned to you when you leave the aircraft. Be sure to keep your personal belongings essential to your trip with you (identity papers, medication, electronic devices, etc.), and to respect the provisions concerning items prohibited in the hold.

CHECKED BAGAGES
Your luggage is transported free of charge in the hold of the aircraft, with a weight restriction specified on your ticket (20 kg).
Your baggage must be labelled. Be sure to use a suitcase ID tag to indicate your contact details including first and last name, phone number and e-mail address.
It is imperative to include your contact details inside your baggage as well.
It is preferable that your luggage is hard covered and always locked.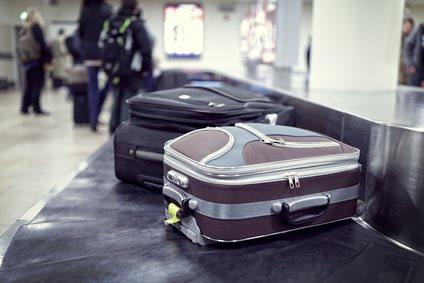 CLAIMING YOUR BAGAGES
Please make sure that the luggage you claimed is yours.
Before leaving the airport, make sure that you claimed all your luggage, the ones you checked and the carry-ons.

AT THE AIRPORT
If you notice any problems when claiming your baggage, (damaged or opened bag), contact immediately the baggage claim service, which is usually located in the same area as the baggage claim, or right at the exit.

OUTSIDE THE AIRPORT
If you notice any problems once you have returned home (damaged luggage, missing items or anything else), please contact as soon as possible the baggage claim service at the airport.

ITEMS THAT MUST BE PACKED IN YOUR CARRY-ON BAGGAGE
It is imperative to pack the following items in your carry-on baggage:
- Valuable items: keys, passports, ID cards, important documents, cash, valuable objects, jewellery, brand clothing, etc.
- Essential items: medications, prescriptions, etc.
- Fragile items: cameras, computer equipment, musical instruments, etc...
- Perishable foods and materials