WFP is the biggest humanitarian agency fighting hunger worldwide.
Created in 1961, WFP is working for a world where every man, woman and child has permanent access to enough food to maintain a healthy and active life. In order to do so, they work closely with their two Rome-based sister organizations, the Food and Agriculture Organization of the United Nations and the International Fund for Agricultural Development – and also with governments and NGOs partners. WFP is part of the UN system. The agency is entirely funded by voluntary donations.

WFP in numbers
80 million People fed
80 countries helped
14 000 staff worldwide of whom over 90 percent are based in the countries where the agency provides assistance.
In 2016, WFP raised US$5.9 billionfunded entirely by voluntary donations
5,000 trucks, 20 ships and 70 planes on the move
1 year = 12.6 billion rations distributed
1 year = 2 million metric tons of food dbought by WFP which at least three quarters of it comes from developing countries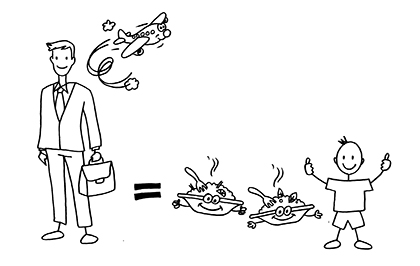 Let's bring our efforts together for a better world, it's so easy !

We have decided to give our support to the World Food Programme with whom we share common values : our actions are guided by ethics and excellence.

Our action is easy :
On every flight ticket sold we will offer 2 meals for a child.

Our commitment with WFP allow our customers to experiment fair travel and to participate with WFP fighting hunger worldwide. We plan to offer 200 000 meals each year thanks to our 100 000 traveller.

Why did Twinjet chose this action ?

We have decided to give our support to the World Food Programme which brings the perfect performances that we were looking for in terms of ethics and effectiveness.

Helping the most in need, especially children, has to be done outside humanitarian emrgency cases. It requires concrete and readable background actions, which everyone can contribute to on a daily basis.

Acces to water, food and also education, there are multiples grounds to support children needs.

Helping children in need is the keystone to contruct populations' future. It is about creating the best conditions for a better future on an economical and a social aspect and also to prevent conflicts.

Helping children for us is a primary axis. As they are only children, we wish to give them hope but most importantly a future.

And there are 1000 other reasons ...

SIf you would also like to support WFP, you can make a donation on the WFP website www.wfp.org or download the app Share The Meal by using the QR code below.